Gym Diary and Client Workout Log Books for Personal Trainers
Our gym diaries are a perfect way to keep your clients on track.
We've been making gym diaries for personal trainers, gyms and gym goers for the past five years to track their progress and can provide personal trainers with discount rates when buying in bulk.
Our premium log books come with 100 daily log pages (50 double sided sheets). Each log page has space for the date, notes, 10 weight based exercises, each with spaces for 5 sets of reps and weight and 4 spaces for cardio exercises. There's also space to plan weekly workout schedules and favourite workout routines.
This page is for ordering client log books mainly for personal trainers. If you are looking to buy a gym diary for yourself then click here to view our customer
gym diary
.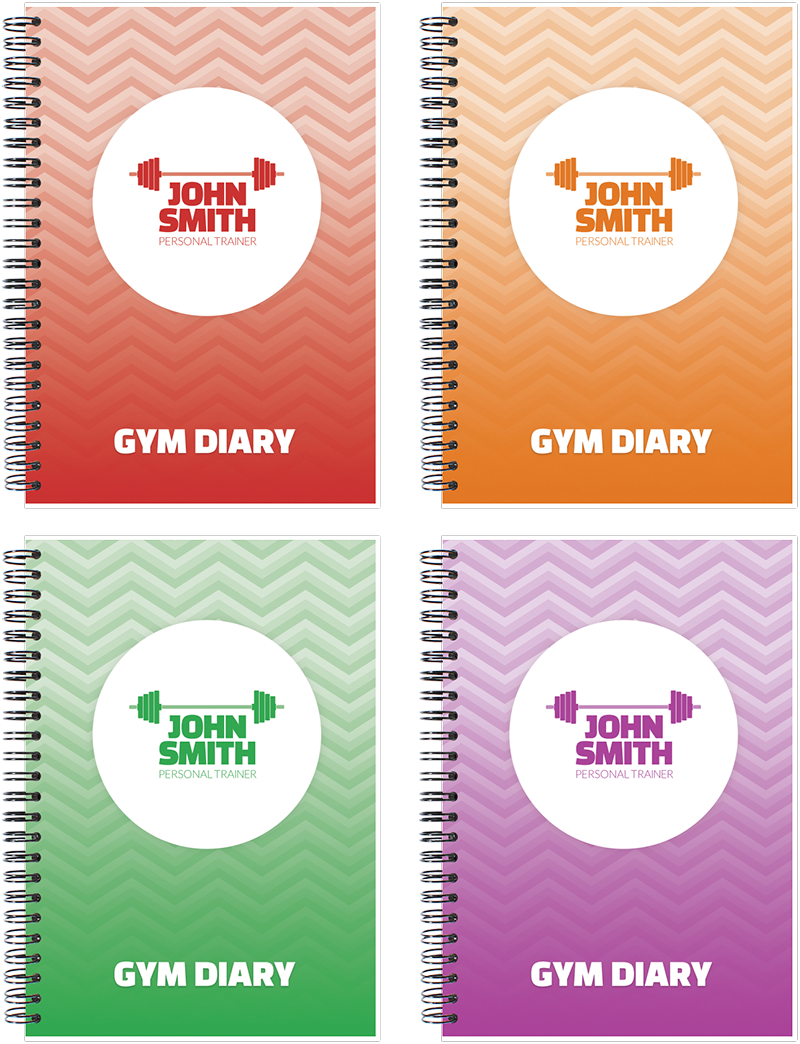 Branded front cover with your logo, text and colours.
We have a selection of professionally designed covers available, all printed on great quality card and glossy laminated for extra protection.
The cover can be customised with your logo, brand colours and some text.
When you order a free sample, we match the background colours of the design to complement your logo colour(s) or a colour of your choice.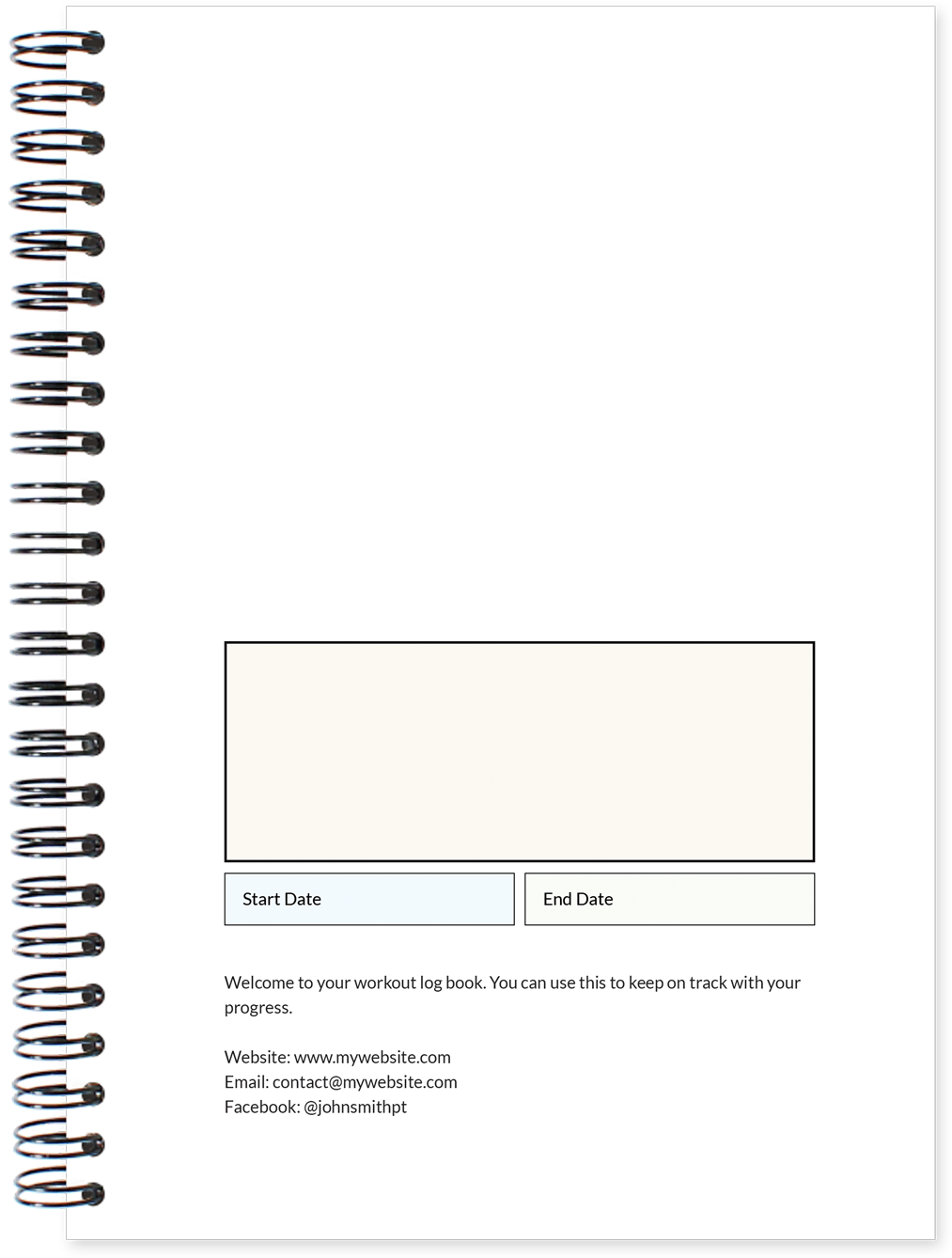 Intro page
The first page of the book has space for your client to write in their details and the start and end date for the logs.
We also have space on this page to print some text of your choice, this could be your contact details or a general introduction to the book for your clients.
Please note, whilst we do not include any of our branding or copyright notices within these books, we do retain all copyright to the books and therefore you cannot add your own copyright notice or make claims to have made or designed these books.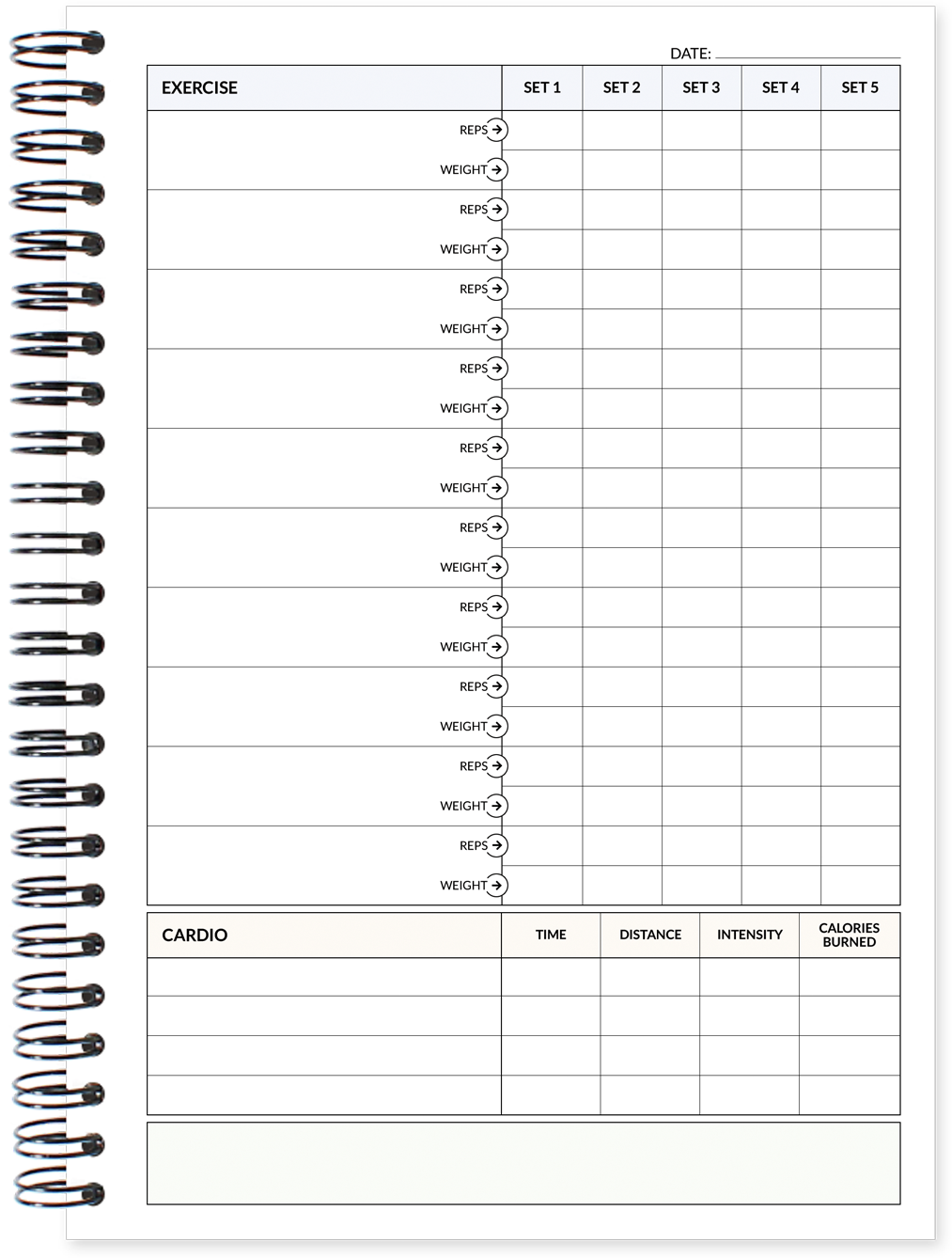 100 log pages
The bulk of the log book is the daily log pages, there are 100 of these (50 double sided sheets).
Each log page has space for the date, notes, 10 weight based exercises, each with spaces for 5 sets of reps and weight and 4 spaces for cardio exercises.
Other pages in the book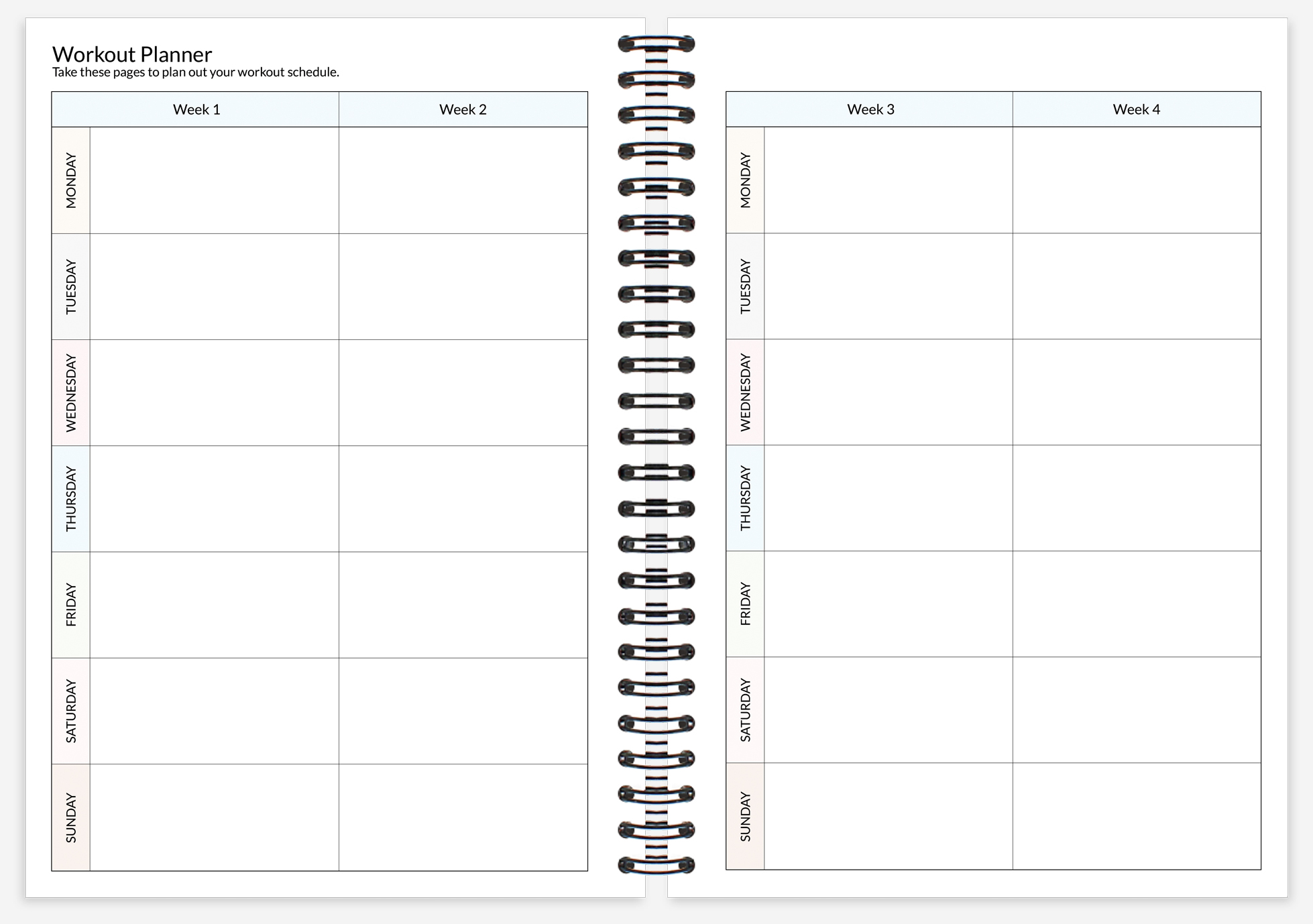 Workout planner spreads
Following on from the first page, there are 5 sets of 4-week workout planner spreads, this gives you space to for 20 weeks of planning.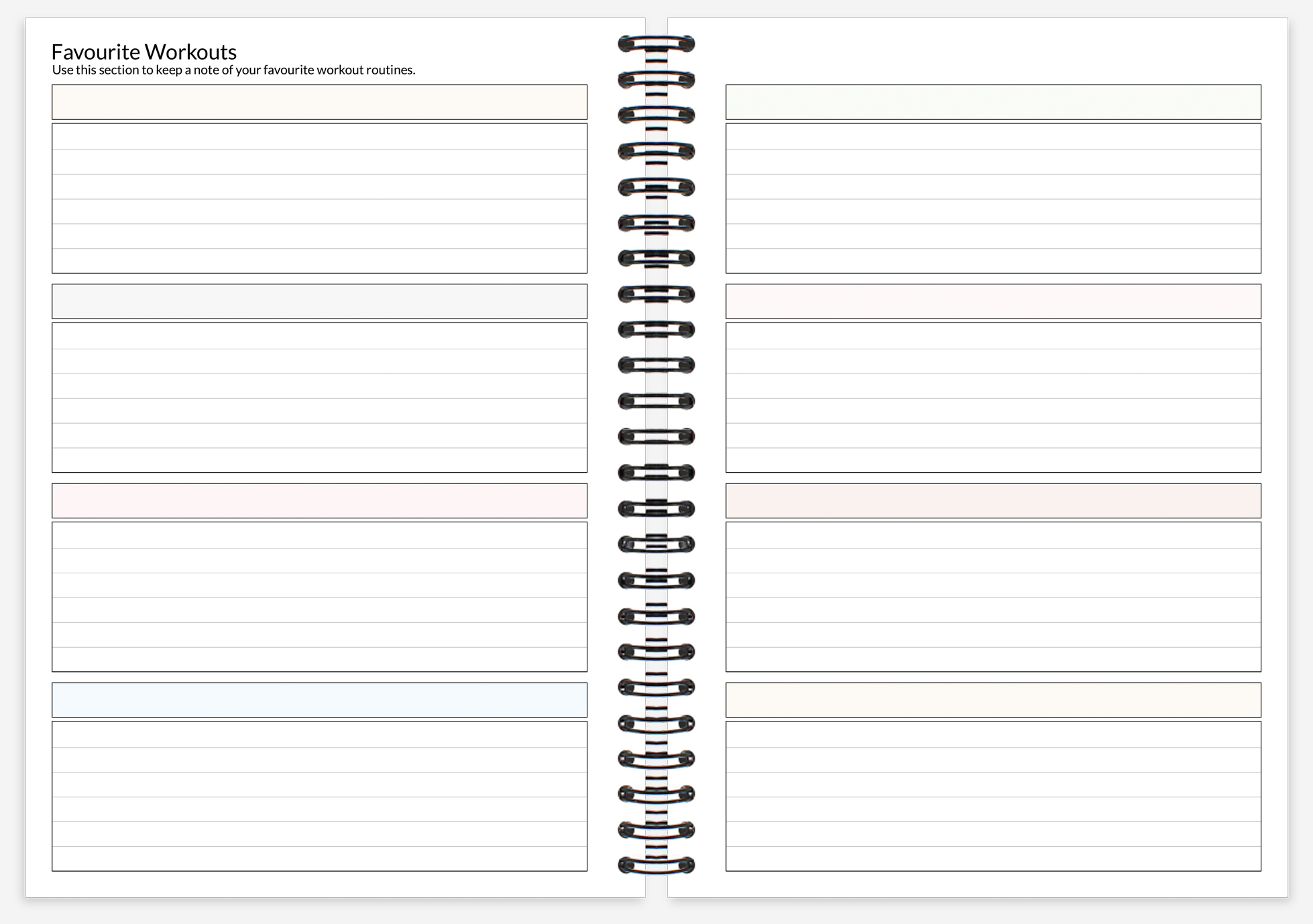 Favourite workouts
Just before the log pages, there's space for details of 8 workouts, it's the perfect place for instructions for your clients to look back on.
Affordable bulk order pricing
You can purchase our gym diaries in quantities of 10. Our branded gym diaries are made to order so dispatch times can be from 1 – 3 weeks depending on how many you order. We have limited capacity for orders of more than 50, please get in touch if you would like to enquire about placing a larger order.
| Number of books | Price | Delivery within |
| --- | --- | --- |
| 10 books | £75 | Typically within 1 week |
| 20 books | £140 | Typically within 2 weeks |
| 30 books | £195 | Typically within 2 weeks |
| 40 books | £240 | Typically within 3 weeks |
| 50 books | £275 | Typically within 3 weeks |
Covers in your colours!
Our professionally designed covers come in a range of styles. The colours of the cover are changed to the colour of your choice. Front and back covers are printed on card and then laminated with a strong gloss laminate and then further protected with thick oversized plastic sheets.
How the process works
Making sure that you're happy with your diaries is our first priority, we have a clear process to make sure that happens.
1
Choose your cover
Choose one of our cover background designs, there will be one perfect for you.
2
Customise your cover
Customise the cover design with your logo, background colour and some text.
3
Get FREE sample
Order your no-obligation free sample to make sure it's how you want it!
4
Make your full order
With your free sample, you'll receive details on how to place your order. If you are happy with your sample then simply create an account on our dedicated ordering website and place your order.
Reselling and Copyright
We allow reselling of our products to your clients or within a gym setting. If you wish to sell our products to the general public then you'll need to get permission from us to do so, we assess this on a case by case basis to ensure that you aren't competing directly with our gym diaries that we sell to the general public.
You cannot claim to have designed or made these products yourself. however you do not need to disclose that we made them if you do not wish to.
Order FREE sample
Before placing an order, you'll need to order a free sample. This is to ensure that you're happy with the product and the customisations before placing a full order with us.
Order your FREE sample
Place an order
If you are happy with your sample and would like to place an order, please click the button below to get started.
Place an order